Uncategorized
Images, after reunion concerts in 2011 and April of 2017, has been invited back to perform a concert at the new Dazzle at 15th and Curtis.  Parking is now easily available.  The show times should be 6:30 pm and 9 pm on Saturday November 4th, 2017.  For information contact: www.dazzlejazz.com.  This concert will feature 2 saxophone/flute players, drums, bass, guitar, and piano.  Joining Images this time around will be Steve Ivey on drums for part of the program.
We hope to see many of you there again,
Lee Bartley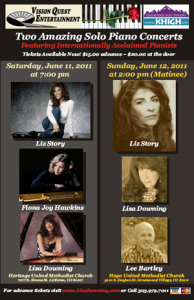 Solo Piano Concert at Hope United Methodist Church, 5101 S. Dayton, Greenwood Village, CO.  Featuring Lee Bartley, Liz Story, and Lisa Downing.  2 PM on June 12th, 2011.
For Tickets:  www.lisadowning.com or call 303-979-7011.
Well, it is official – an historic and long awaited reunion concert of the IMAGES band that I helped found, recorded with, and toured nationally with "back in the day" we shall say! The original IMAGES quartet: Myself – piano, Joe Anderies – saxophone and flute, Rich Sallee – bass, and Dave Small – drum set – will be coming together for 4 concert sets at Denver's great jazz venue Dazzle. So mark your calendar and don't wait too long to get tickets for one of these shows if you are interested. I would guess that they will all sell out by the time of the event. Hope to have a wonderful reunion with all of our past and present friends and fans! Here are the details, a promo photo, and a direct link to Dazzle's website and the page to do advance online ticketed reservations.
Best wishes, hope to keep in touch!
Lee Bartley
IMAGES Reunion Concerts
Dazzle – 930 Lincoln St.
Denver, CO         303-839-5100
Saturday, June 4th – shows at 7 pm and 9 pm
Sunday, June 5th – shows at 6 pm and 8 pm