Biography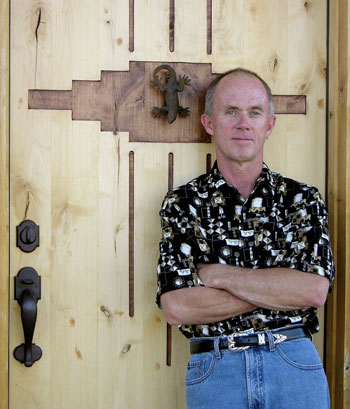 Lee Bartley is a native of Colorado, where he continues to live, work and play. The beautiful surroundings, abundant wildlife, rural connections, and city vibes have been an enduring source of inspiration in his art of playing piano and composing music.
Lee's first solo CD, "Adrift in Time," is comprised of 15 original compositions performed by him. This solo CD is a diverse collection of songs rich in harmony and technique with a refreshing emphasis on melody.
His second solo piano CD entitled, "A View From Above," continues to have emphasis on melody with a strong classical structure and hints of jazz. Though somewhat different from "Adrift in Time," this CD continues to display Lee Bartley's unique style of composition and flawless performance.
Prior to Lee's second CD release, he joined the Whisperings Solo Piano network, and in 2010 made "CD of the Year" with "A View From Above."  It was also at this time that he began performing solo piano concerts with other artists. He has toured and performed with Liz Story, Lisa Downing, Joseph Akins, David Nevue, Kathleen Ryan, and Julio Mazziotti, to name a few. He will be continuing this trend of expanding his reach with solo piano concerts, while continuing to perform locally and engaging in the ongoing endeavor of creating new musical compositions.
The summer of 2014 saw the release of Lee's third solo CD, "Carried Away."  This CD embodies a new concept for Lee in that four of the compositions were written with lyrics.  Even though not sung by a vocalist on this recording, the lyrics are printed in the CD case allowing listeners to follow along as the melodies are played, giving the audience a refreshing way to envision a song.
"Many years ago a musical journey began for me. At five years old I was drawn to the piano and music in general. At the age of eight I found I was born with 'perfect pitch.' With this, one is no better a musician but rather is simply more aware of what everyone else chooses to do with harmony. It gave me the desire to be committed to the life-long pursuit of creating and enjoying music.
Fortunately for me, classical music was the order of the day for my first twelve years. In retrospect I'm now very grateful that it was.  With classical music there is never too much statement of melody, never lack of dynamics, never incomplete harmony, never too little harmony. Like nature, it is simply in balance.
Wishing to reach further, at the age of sixteen I proceeded to study jazz, as well as music theory and composition with Denver jazz pianist Bill Alexander. During the summer between my junior and senior years of high school I joined a jazz trio and began performing professionally three nights a week. At the same time I was hired as 'composer in residence' at the Stephens Perry Mansfield College Theater and Dance Camp in Steamboat Springs Colorado. During my time there I composed for jazz, modern, ethnic, and ballet dance classes. One day I might compose a mazurka for ballet and the next day a piece in 5/4 for jazz dance. It was a wonderful experience for me, not just as a composer, but also as an accompanist, for in later years I served as accompanist for the Colorado Ballet, the David Taylor Dance Company and the Jan Justis Dance Company."
Lee Bartley studied at Northwestern University, the University of Southern California, and Denver University from which he received a degree in music theory and composition under the guidance and tutelage of Norman Lockwood.
Beginning in 1981, Lee Bartley, with colleague Rich Sallee, formed a 4 piece jazz ensemble called "Images," of which Lee was the principal composer. They became an important part of the Denver jazz scene, being much in demand, and became known for their 'classical jazz style.' In the early years singer songwriter Jill Sobule would often join them for a night of music and vocals. This acclaimed ensemble went on for the next 18 years performing throughout Colorado, as well as giving live performances throughout the country, performing at celebrated events such as the Breckenridge Jazz Festival, the Catalina Jazz Festival, the West Palm Beach Jazz Festival, and the Riverbend Festival in Cleveland Tennessee. They headlined clubs, and were on festival bills with artists Kenny G, Earl Klugh, Wynton Marsalis, Spyro Gyra and Ramsey Lewis. Images also opened concerts for The Rippingtons, The Yellowjackets, and Jeff Lorber. As a jazz group they produced six national releases, among them CDs for both MCA Universal Masterseries and Capitol Records, charting as high as #8 in R&R Magazine for national radio airplay. As the principal composer for the group Images and as a soloist, Lee has recorded over 70 original compositions on national releases. His recordings with Images continue to receive airplay here in the U.S. as well as overseas in Europe and Asia.
Lee Bartley continues to hone his skills as a superb musician both as an accompanist and a jazz musician. He has accompanied New York jazz singer Joyce Lyons, Chicago cabaret performer Gillian Kelly, and participates in community involvement accompanying the Mancos Valley Chorus twice a year. He has played with renowned jazz pianist and composer Bob Dorough, but also continues to perform locally with other muscians playing straight-ahead jazz. Most especially he continues performing locally as a soloist, playing his original 'classical art songs.'
"My solo playing has grown over many years to include aspects of several musical styles. Jazz has given me wonderful harmonic color, but maybe not enough dynamics. Classical music has given me a respect for good melody and balance, but maybe not enough freedom. All styles have something to offer, I believe, as is the rule with art, and with nature.
The piano itself is really the ultimate gift, for it has afforded me the opportunity to express what I hear; the music that comes to me and through me. It has been the instrument that allows me to share what I feel is important about melody, and harmony, and dynamics, and freedom with respect to music. The piano is simply the way I reach out to all people to help them enjoy life a little more."